Product of the week
Get incredibly soft, silky, and tangle-free hair!
Have you tried our 4-Way Leave-In Conditioner yet?
No?!? Well now's the time!
Whether you're looking for more moisture, frizz control, or simply switching things up, our Leave-In Conditioner is the one-step wonder you've been waiting for.
You'll get 24-hour moisture and hydration and hair that is soft all day long. Plus, there's no need to worry about tangles or frizz because our conditioner keeps those under control. Not to mention it's a great barrier and heat protectant if you want to blow dry or flat iron your hair.
Whether you have curly, straight, thick, or thin hair, this versatile formula adapts to meet your unique needs.
Treat your hair to the luxury it deserves without resorting to luxury prices!
Get it now for 10% off (discount applied in cart)!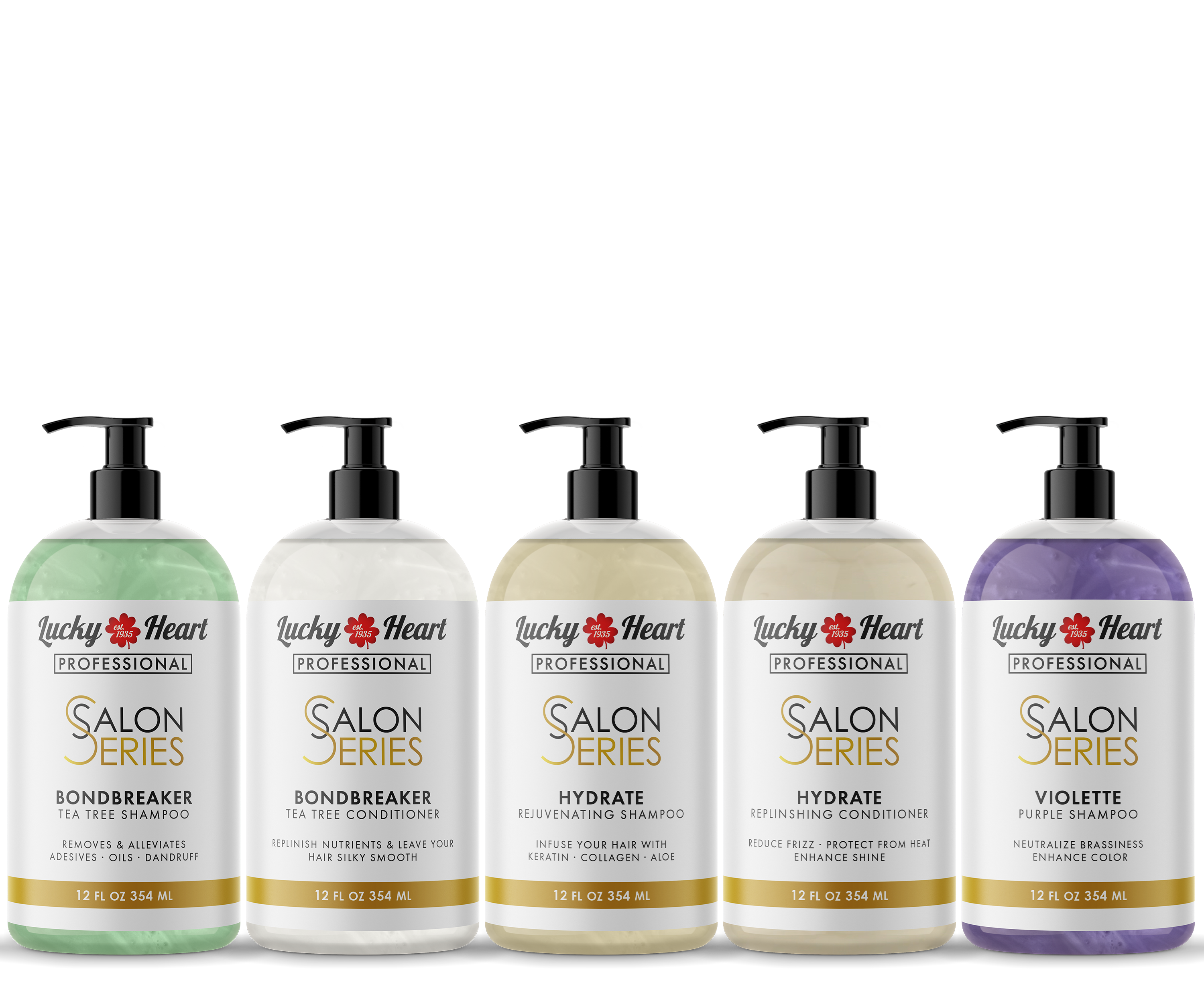 Coming soon
salon series collection
Get ready for Lucky Heart's newest hair care collection: Salon Series.
This collection was carefully crafted to provide you with professional quality products at an affordable price. From hydration to color preservation to scalp care, the Salon Series transports a professional salon experience directly to your shower.
Coming soon, it will feature a dedicated Violette Purple Shampoo that is designed for blonde, sliver, and highlighted hair. It neutralizes yellow tones and brassiness allowing your hair to shine bright.
The Hydrate Shampoo & Conditioner are a deeply moisturizing formula that will quench your thirsty tresses and leave you will long-lasting silkiness and strength,
Finally, our Bondbreaker Shampoo & Conditioner will soothe and balance your scalp, strengthening your hair.
"This store was created specifically for black skin and hair. They have excellent hair products especially for natural hair specializing in hair health and growth. This store is over 50 years old. Lena Horne and Josephine Baker use to buy hair and skin care products from this store. I don't need a lot to choose from as long as it works. Their products are not expensive."
"Such an amazing place with great customer service and fast shipments!"
"This store is outstanding!! The owner is the sweetest! I've purchased so many hair products for years and have spent tons of money, only to find this incredible store with very reasonable prices!!!!! You will not go wrong with this company."
Read more
don't miss these customer favorites
Frequently Asked Questions
Yes, we ship all over the world. Shipping costs will apply, and will be added at checkout. We run discounts and promotions all year, so stay tuned for exclusive deals.
We do our best to fulfill orders within two business days. If your product is backordered or out of stock, it will take longer to fulfill.
All of our products are made right here at the Lucky Heart facility in Memphis, TN!
Our default shipping for domestic orders is priority. We cannot control delays with USPS and UPS however. We offer free shipping protection from Route if there are any issues with your shipping.
Yes. We do not test our products on animals and all ingredients are naturally derived.
Yes. For wholesale purchases, please give us a call at 901-526-7658.
Orders can be placed online or over the phone.

The Lucky Heart Cosmetics journey began in 1935 in the heart of Memphis, Tennessee. Founded as a dedicated beauty and cosmetics company for the African American community, we embarked on a mission to provide specialized hair and skincare solutions tailored specifically to the unique needs of our clients in the mid-south. From the very beginning, we proudly stood as a locally owned and operated business, firmly rooted in the vibrant tapestry of Memphis.
Our commitment to quality and excellence has been unwavering since day one. All of our products are proudly manufactured right here in Memphis, reflecting our dedication to supporting our local community and ensuring that every item meets the highest standards of craftsmanship.
Throughout the decades, we've continued to manufacture the signature products that are beloved by generations of customers. These tried-and-true favorites remain at the heart of our brand, a testament to their enduring quality.
As we've grown and evolved, so too has our vision. We understand that beauty knows no bounds, and our commitment to inclusivity and diversity has led us to expand our product range. Today, we offer a wide selection of natural and reliable beauty products, designed to cater to the diverse spectrum of skin and hair types.
Our goal is simple: to provide accessible, top-quality beauty solutions that empower individuals to look and feel their best, no matter their background or beauty journey.
At Lucky Heart Cosmetics, our rich history has laid the foundation for a future that's as bright and inclusive as our beauty products. We're currently a veteran-owned business and are proud to continue serving Memphis and beyond with a dedication to quality, community, and a belief that everyone deserves the chance to shine.